Katz 21: Upscale Dining Experience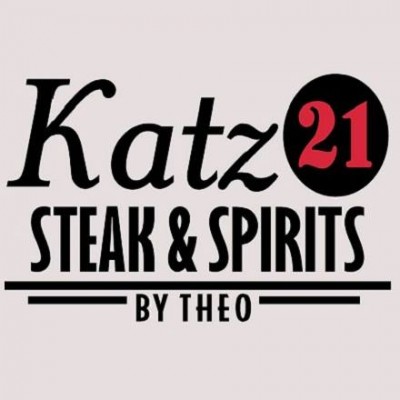 For the October issue, Katz 21 Steak & Spirits is featured in a 2 page spread spotlight and a full page advertisement on our back cover! With their new location and upscale dining experience, this is the perfect place for your Wedding & Rehearsal Dinner! Enjoy this fabulous article written by Omar Lopez. Omar is a professional communications director and freelance writer. He has worked for many newspapers and has been published throughout Texas in USA Today! Photos by Art Barrera!
Elegance and refinement often appear in the most precious of details when it comes to weddings: the bouquet of a mature wine, the color of a fresh bloom, and the artistry of a chef's first course. These are details that herald a high standard of service, a focus on cuisine and an effort to achieve excellence.
Katz 21 Steak & Spirits, in its new location on Corpus Christi's bustling Southside, strives to create weddings and celebrations with these details at the forefront of the guest experience. In its former location, known as an upscale dining experience attached to one of downtown's hottest nightspots, the relocated venue softly and quietly opened less than a year ago to its new home with vast improvements. Still a fine dining restaurant, and still an upscale nightclub, Katz also brought something new to the Southside of Corpus Christi for brides with very discriminating taste.
Imagine this: from the first steps into the building, the visual stimulation takes patrons directly out of Corpus Christi's busiest part of town into a secluded, rich environment. To the left, a champagne vault greets visitors. Directly forward, a floor-to-ceiling, custom-built wine cellar features more than 1,500 bottles. To the right, a grand bar with a dance floor, tasteful DJ booth and cleverly disguised sound system come together to make up the legendary nightclub, Club 21. A state-of-the-art lighting installation hangs above the dance floor like a halo, and the walls are adorned with colorful images of jazz icons and reproductions of vintage Italian posters.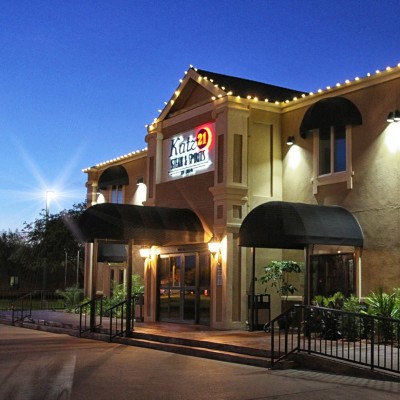 The atmosphere reflects a sense of global refinement. Polished clocks hang on the wall, set to different time zones from around the world.
A well-kept secret for brides (until now) sits at the back of the building. A short walk past the wine cellar, the night club and the formal dining room leads you to the grand ballroom, a venue perfect for weddings and receptions. Easily seating 120 to 150, the ballroom features all of the amenities associated with a luxury hotel. The space is warm but modern. Art-deco crystal chandeliers hang tightly to the ceiling. Mirrors on the walls reflect the tasteful wall coverings. Wall-to-wall carpets feature a stately pattern.
The walls are equipped with motorized projection screens for multimedia presentations, and a built-in sound system allows bridal celebrations to plug in a playlist, hook up to a DJ or listen to the music from the main dining room or the nightclub next door. The ballroom is served by a separate, banquet kitchen facility to accommodate for wedding menus.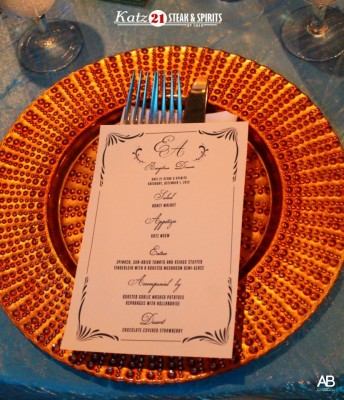 Aside from serving as one of the city's most versatile and beautiful wedding venues, Davit McDaniel, general manager, says that the true pearl in a Katz 21 Steak & Spirits wedding or event remains the fine dining experience. Napkins gently placed in patrons' laps, crumbing after each course, impeccable timing – all are the hallmarks of a Katz 21 Steak & Spirits wedding, hallmarks that McDaniel said cannot be replicated in a banquet setting or rental hall.
"Our staff are service professionals," McDaniel said. "A new hire isn't allowed to work with our guests without being heavily trained. Our service staff is a sharp group of trained professionals with one goal in mind: to set the highest standard for fine dining in this city. They achieve it."
Katz 21 Steak & Spirits opened without fanfare promoting its wedding venue. The team relied on word-of-mouth advertising to bring couples to the restaurant that wanted exclusive receptions with unique moments. In the past year alone, one wedding hosted a magnificent bubble exit for a newly married couple; another entered the building and reception serenaded by authentic Scottish bagpipes.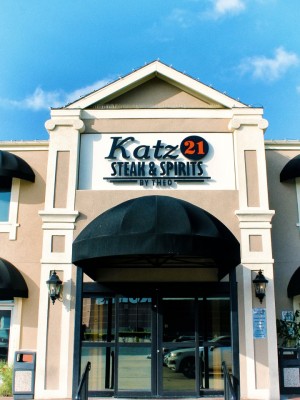 Still, McDaniel said the key elements to a Katz 21 event are the attention to details in the fine dining and service.
"Our team is committed to the fine dining experience," McDaniel said. "The reception will start with the food and the service. Menus are created to match the personalities of each couple. Adventurous couples might try new blends of flavors and textures, appropriate for different courses. More traditional pairs might choose selections from the main Katz menu, which boasts rich, amazing flavors.
The venue also offers an outdoor patio with banquette seating, stained concrete floors, granite bars and cocktail tables. Butler service is available throughout the restaurant for any catered wedding event, indoors or outdoors.
McDaniel says a finer dining experience in the city could not be found. It's the reason why, he says, weddings at Katz 21 Steak & Spirits are simply unparalleled, and unlike any other venue in the city. "We are defining new standards for dining and weddings, in South Texas," McDaniel said.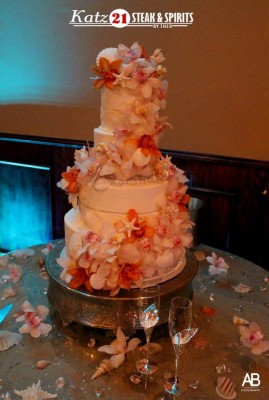 Visit Katz 21 Steak and Spirits at 5702 Spohn Drive, off of Staples Street. For more information, call (361) 884-1221 or visit www.katz21.com
We at The One are so excited to have Katz 21 featured in our magazine and also becoming an advertiser! Thanks to all of our contributors who make our magazine successful! We are here to help your business prosper and continue to be successful as well! Want a copy of The One? Check out our website to find out where you can find a copy in your local area!
Your Sales, Marketing & PR/Blogger
-Monica B. Trevino