Waterstreet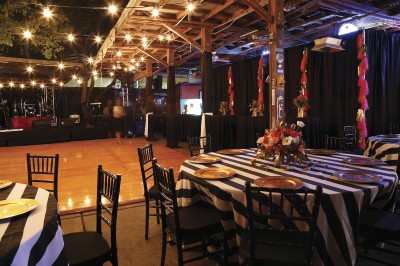 Iconic.
It is all a bride can wish for on her wedding day. From the flowers to the march down the aisle to the champagne toast – she dreams of perfection served on a pristine plate. What better to serve on that plate than the food from THE iconic seafood destination in Corpus Christi – Water Street.
The Water Street Oyster Bar, Water Street Seafood Company and Executive Surf Club have been the setting for a multitude of romantic first dates, surprise pop-the-question dinners and family celebrations for quite some time. The collection of restaurants has earned a reputation of serving the best seafood on the Gulf Coast. Now, their Banquets & Catering by Water Street arm has employed a mobile kitchen and the restaurants have upgraded their meeting spaces to accommodate wedding parties of all sizes.
"Becoming the best catering option for brides and celebrations is really a natural progression for Water Street," Chela Retta, Banquet and Catering Director, said. "We worked for years to perfect our on-site venues, and we will always strive to do that. For the past few years, we have been working to bring that signature experience to our catering clients. We know what we do, we do it well and we have been doing it for a long time. Now, we take that outside of our dining room."
Water Street currently houses three traditional event venues. The first is the Banquet Room on the second floor of the Water Street Seafood Company. The recently remodeled, private entertaining area seats 85 people comfortably. The private patio bar with garage doors at the Executive Surf Club seats 40 to 50, depending on the configuration. And the newest space, which boasts one of the most unique atmospheres in Corpus Christi, is the Texas Surf Museum. The room seats 50, and can host more for cocktail parties.
"The spaces are only the beginning
of what the catering team can make happen at Water Street," says Liz
McCampbell, Marketing
Director and Catering Sales Director. The past year has seen several "restaurant shut downs," complete closures for special events and large parties. The Executive Surf Club was transformed into a debutante party this past year; and, the Seafood Company was closed for a private, seated meal for 125. The largest event recently hosted 400 people for a brick patio party.
Retta said the imagination is the limit when it comes to events at Water Street, but the foundation to any celebration is always a fresh, delicious menu – something she said sets them apart from other event services when
it comes to weddings.
"Food has become so much more important at any celebration now. Brides want their guests to have great food," Retta said. "We truly look at your budget and come up with a menu that delivers amazing food prepared on site, not stored in a hot box for an hour while it travels to the wedding venue."
A major step for the company has been the addition of a dual-branded food truck. Wrapped in both a Banquets & Catering by Water Street logo and a Tailfins logo (the name of the Water Street specialty restaurant that serves restaurant best-sellers "fast food" style), the truck is a complete mobile kitchen – and the secret weapon at any wedding. Retta said South Texas reigns when it comes to ranch weddings. Water Street Catering has watched that trend evolve and they are prepared to travel to meet the needs of a bride.
Michelle Martinez, also a Banquet and Catering Director, said off-site wedding and catering events are treated with the same Water Street standard of customer service as on-site events. Service teams make sure guests enjoy the dining experience completely; that includes continuous bussing during the meal and wine service, if arranged. Martinez, Retta and McCampbell will meet with brides several times for tastings and detailed reviews before the event. McCampbell can offer help with concepts and design ideas, and Martinez and Retta can manage logistics like tables, chairs and other rental needs for brides to create a true one-stop shop for weddings.
A new Executive Chef at Water Street, Lee Kupferman, has infused an additional element of world-class service. Trained in China, Kupferman creates menus to please a bride's requests. Recently, the company served an authentic Russian menu for a rehearsal dinner.
What is important to know about Banquets & Catering by Water Street is that they do more than arrive on time, set up a buffet and break down tables, said Retta. They carry the Water Street reputation to every event – and clients know.
"For Water Street, it's more than a catering job," Retta says. "It starts with building a relationship – a longstanding relationship with any client. We have catered rehearsal dinners to weddings to baby showers to christenings for the same family. That reflects our standard."
"We know there is a level of service and quality of food that our diners
expect. We have transitioned that into our banquet service, and that is what makes us the best. It's the little special touches that Water Street brings to any dining experience that we can make happen for a bride on her wedding day – and we do."
Written by Omar Lopez
For more information:
Liz McCampbell
Water Street Restaurants
361-561-0190
waterstreetrestaurants.com