Allison Andrews & Travis Cruger
Wedding colors:Black & white
Site of the Ceremony:The Church of the Good Shepherd
Site of the Reception: Corpus Christi Country Club
Number of guests: 275
Site of rehearsal dinner: Texas Surf Museum
Number of rehearsal dinner guests: 50
Wedding planner: Karen Andrews (Mother of the Bride) & Razzle Dazzle
Who designed the invitations: Karen Andrews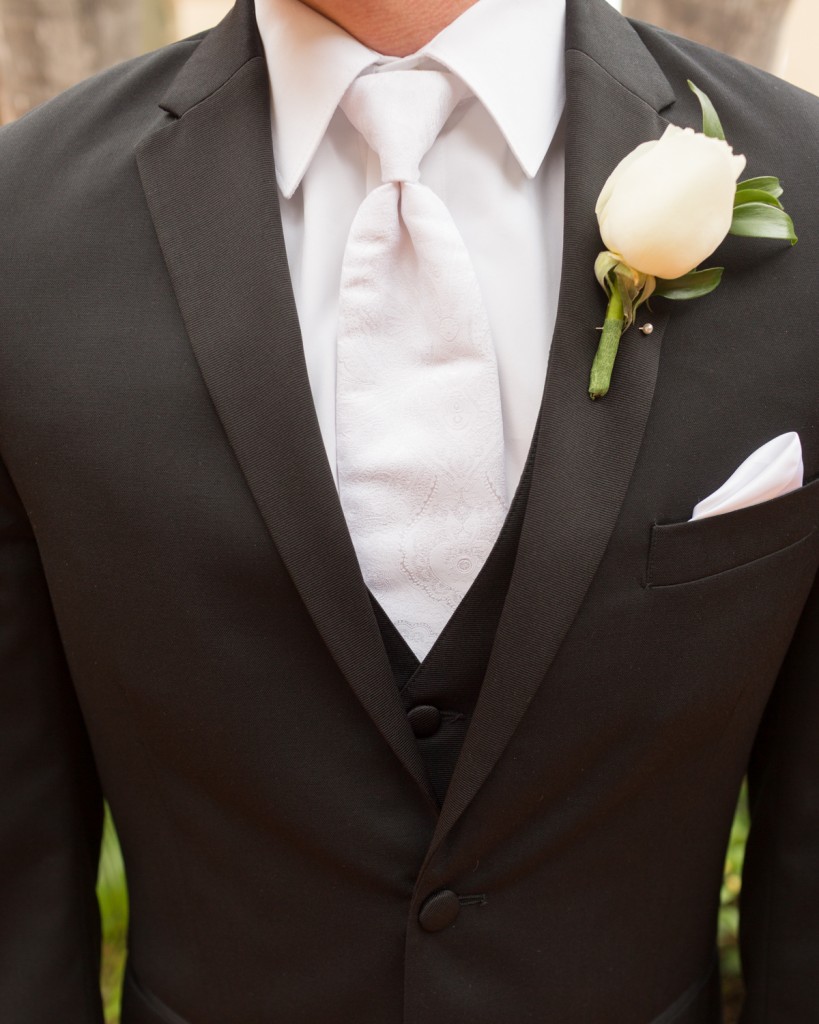 Tuxes: Men's Warehouse
Hair and makeup: Hair: Lindsey with Lindsey's Little Hair House Make up: Maegan Medina (Maid of Honor)
Flowers: Lee with Duggar's Villa
Decorations: Razzle Dazzle
Caterer: Corpus Christi Country Club
Cake:Janet's Cakery
Reception rentals (i.e. tents, stage, etc.): Corpus Christi Country Club
Reception entertainment: Flashback
Photographer: Rachel Scott Photography
Videographer: 1Shot Video
First dance song: Thinking Out Loud by Ed Sheeran
Father-daughter dance song: My Girl by The Temptations
Mother-groom dance song: What a Wonderful World by Louis Armstrong
Get-a-way vehicle: White Stretch Limo
Wedding night lodging: The Omni Corpus Christi Hotel
Bridal party gifts: Bridesmaids: earrings for the wedding day, monogrammed button up shirts for wedding day hair and make up appointments, personalized wine glasses and wine bottle.
Groomsmen: customized beer bottles, cigar box filled with cigars, a cigar cutter, and liquor
Where did you register:Target, Dillard's, and Bed Bath and Beyond
Honeymoon location: Maui
Favorite Detail:
Bride:We had bagpipes play at our ceremony and reception (Dan Shepherd, Pipe Major), it was the perfect touch to our perfect day!
Groom: Same answer as the bride!
Favorite moment
Bride:The Best Man's toast!! Travis's brother who is the lead guitarist in The Junction541 Band was the Best Man. While he was giving his toast to Travis and me he said "everyone knows today is really about Allison…so I'd like to sing her favorite song!" He then played his own rendition of "Say My Name" by Destiny's Child! It was hilarious!! I sang along and laughed the entire time!
Groom: Seeing my bride walk down the aisle…I lost it, she was stunning!
Biggest challenge
Bride:The weather. A front blew in the morning of our wedding day! So while the girls and I were at the hair salon it was pouring down rain! Luckily the rain stopped in time for pictures at the church!
Groom:Last minute errands the day before and the day of our wedding…we are professional procrastinators!
Funniest or most embarrassing moment:
Bride & Groom: The Best Man's Toast
One piece of advice for future Brides or Grooms:
Bride:Your wedding day will be more perfect than you can imagine! Planning your wedding may be the most stressful time of your life…but stay calm and appreciate every helping hand!!
Groom:Have your groomsmen with you the entire day of your wedding, arrive early to everything so you have time to settle your nerves, and don't get too drunk the night before your wedding!
Why did you get married, or what does marriage mean to you?
Bride:I married Travis because he is the man I have prayed for since I was a little girl. He is everything I have ever hoped for in a husband. Marriage is the most beautiful sacrament and commitment a man and woman can make.
Groom: I married Allison because she is everything I expected my future wife to be. My parents have been married more than 30 years, their example of a loving marriage is exactly what I've always wanted. Allison and I will strive to have a marriage as happy and loving as both of our parents' marriages.
How to make your spouse happy:
Bride:Respect him, speak his love language, and admit when you're wrong.
Groom:Say yes to everything, right or wrong we're both here to make one person happy…and she knows who she is!
What do you look forward to the most about being married?
Bride:I look forward to many years of love and happiness with the man of my dreams! And having children!
Groom:Making babies…and practicing making babies!!
Any other information you'd like other couples to know:
Bride: Listen to your parents. They know what they're talking about and they will help make sure your day is perfect!
Groom: Give yourself at least half a day after your wedding before leaving for your honeymoon.