Allison Kirsten Sheppard & Robert Mitchiner Voelker III
Colors: navy, pearl, and taupe
Ceremony: First Christian Church, Corpus Christi, Texas
Reception: Solomon P. Ortiz Center, Corpus Christi, Texas
Site of rehearsal dinner: Landrys Seafood Restaurant for dinner and a welcome party immediately
following the dinner at the Omni Bayfront Hotel.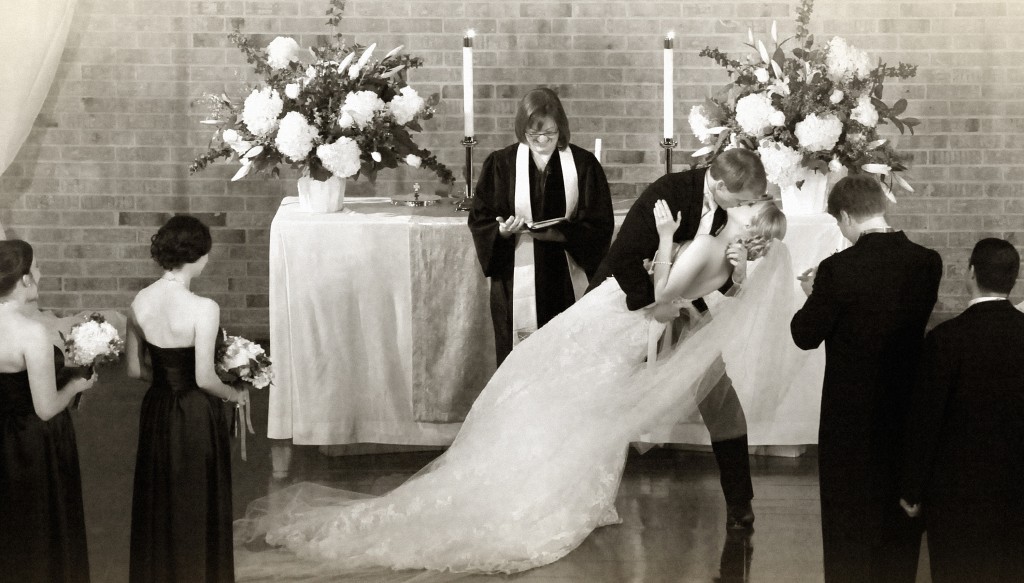 Officiant: Rev. Rochelle Richards
Invitations: Dreamfly Creations
Dress: Parvani Vida (Houston, Texas)/Enzoani
Tuxes: Men's Wearhouse
Where did you get your wedding rings: Robbins Brothers
Jewelry:Borrowed ring from Grandmother, Rest from Dillards
Bridesmaid Dresses: LuLu's (Dallas)
Groomsmen Tuxes: Men's Wearhouse
Hair and makeup: Hair
-Anthony's Day Spa, Makeup-self
Flowers & Decorations: Razzle Dazzle, including a huge custom made chandelier made out of cobalt blue wine bottles
Caterer: Ovation's at Solomon P. Ortiz Center
Cake: SugarBaker's
Reception Rentals: Ortiz Center
Entertainment: Water's Edge Pupes and Drugs. Flor Na Daire Academy of Irish Dance dancers. Blue Moon Entertainment (DJ)
Special Wedding Music: Ten piece pipe and drum band: Water's Edge Pipes and Drumsvocalists: Seline Garcia Smith and Alfredo Vera organist: Leslie Peart flutist: Dr. Belen Palos-Tulley trumpeters: Shawn Smith, Stephen Montez and Juan Vargas III
Who was your photographer: Deux Boheme
Who was your videographer: Big Box Pro
What was your get-a-way vehicle: Yellow Camaro convertible-compliments of  Neessen Chevrolet Kingsville
What was your wedding night lodging: Suit at the Omni Bayfront Hotel
What were your wedding favors: Vance Kitira pear candles
What were your bridal party gifts: Bridesmaids: monogrammed Columbia fishing shirt and necklace
Groomsmen: Engraved Brass Compasses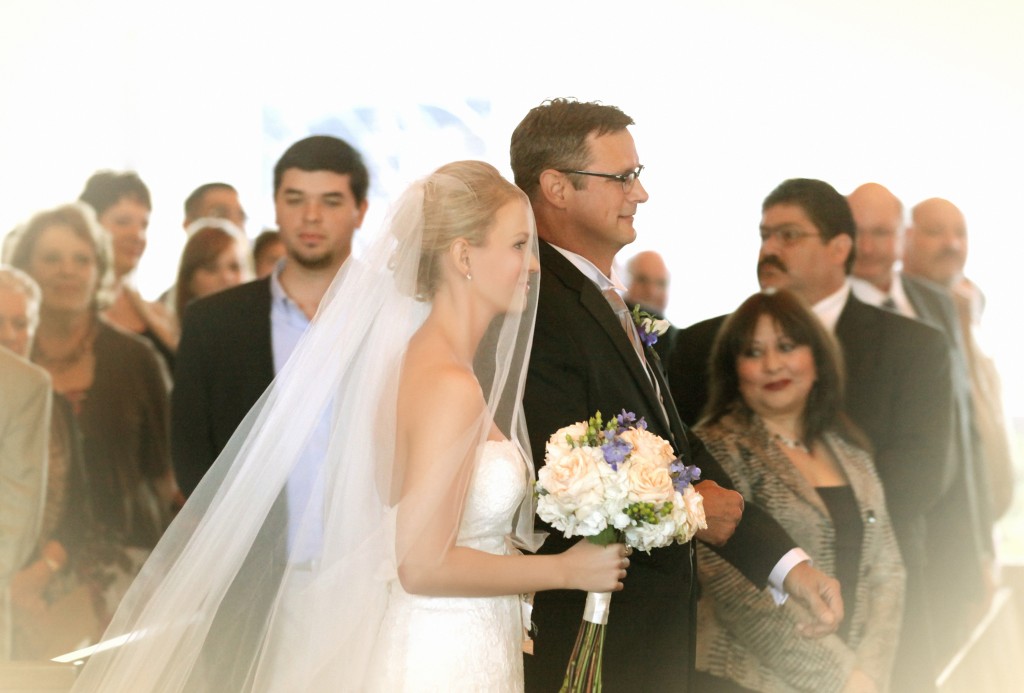 Favorite detail (what made your wedding unique)
Bride: My favorite moment was when the wedding actually started. It was so wonderful knowing that at that point there was no more waiting. With a 14 month engagement, I thought it would never actually come around.
Groom: Wearing cowboy boots with my tux. That was a hard sell.
Favorite moment
Bride: When we were dancing and it felt like everyone was on the dance floor singing and having a wonderful time. At one point Robert and I were encircled and everyone was singing "Jesse's Girl" to us.
Groom: My father-in-law's bagpipe band played epic entrance music for myself and the groomsmen as we approached the stage. The bride always gets a grand entrance, but never the groom.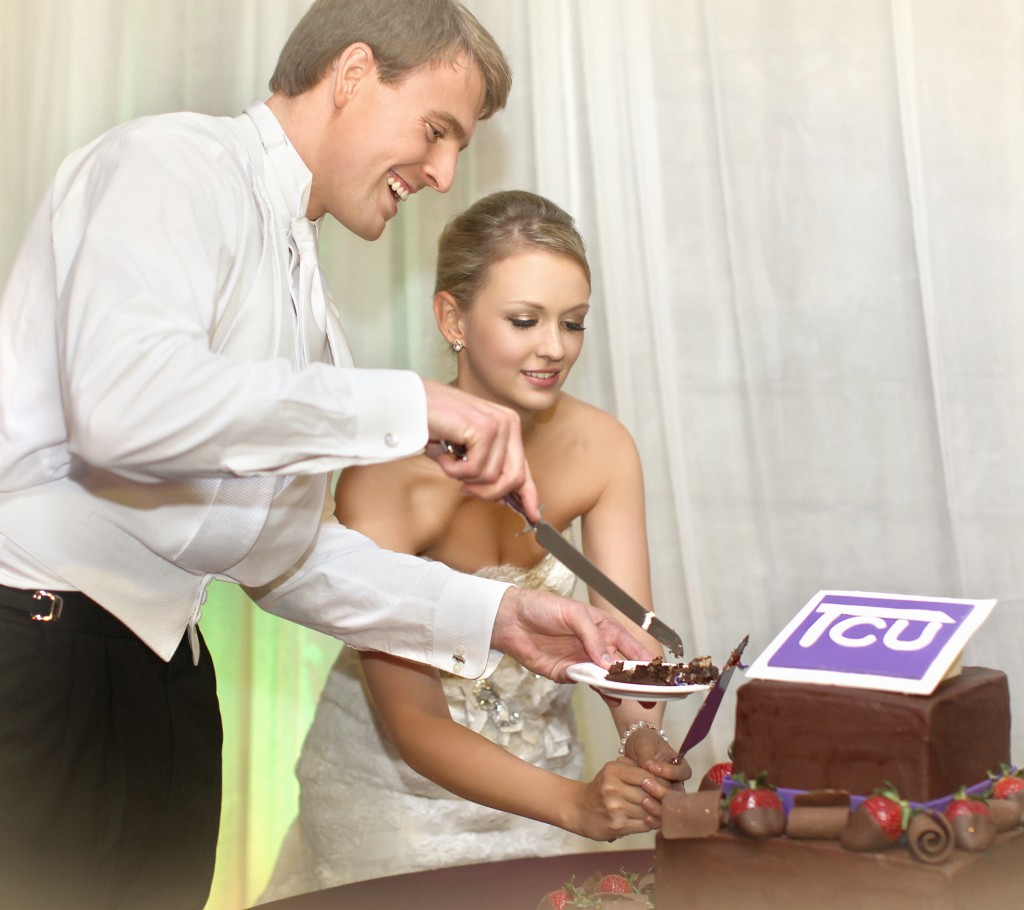 Biggest challenge:
Bride: Letting go the day of the wedding. At that point things are going to happen the way they happen and there I no point in stressing. If at the end of the day you are married, you have accomplished what you set out to do.
Groom: Saying hello to as many people as possible while still getting to dance the night away.
Funniest or most embarrassing moment:
Bride: My dad and I never practiced our dance, so when the music started and he decided that we were going to do a waltz, I had to inform him that I could not move backward due to my dress. It was weird dancing and trying not to trip over myself.
Groom: The best-man's speech at the rehearsal dinner. He couldn't find a way to end the speech so it just went on, and on, and on…poor guy.
If you could do one thing over again what would it be:
Bride: Nothing, the day was perfect! I got to marry my best friend and even if everything went wrong I would leave it the way it was. The little mess ups are the things you can look back on and laugh at.
Groom: Picked a date with warmer weather. The venue had a great patio looking over the bay and we did not get to utilize it much.
One piece of advice for future Brides or Grooms:
Bride: Just remember the ceremony is for you, the reception is for your guests.
Groom: I agree with my wife. Also, guys, stay out of the planning as much as possible. Only disagree if you absolutely have to.
Any other information you'd like other couples to know:
Bride: As we have been married for almost four years now, I feel like we have a little bit of wisdom to share. The biggest one for me, which is something we included in our vows, is just never going to bed angry. We have only done that once and it was the worst night sleep I have ever gotten. It is better to stay up all night and work hard are resolving your issue than going to bed prideful. Knowing that when we have a disagreement, we are both working at finding a resolution is such a great thing no matter who is "in the wrong".
Groom: Any time we fight, we remind each other that we are on the same team. There is never a time when one person is trying to "win" the fight. We are only trying to understand how we can each improve ourselves to never have the same problem twice. It's not about winning, it's about loving your spouse more than yourself. If you both do that, you always win.