Madeline Clara-Marie Shirley & Jason Skrobarczyk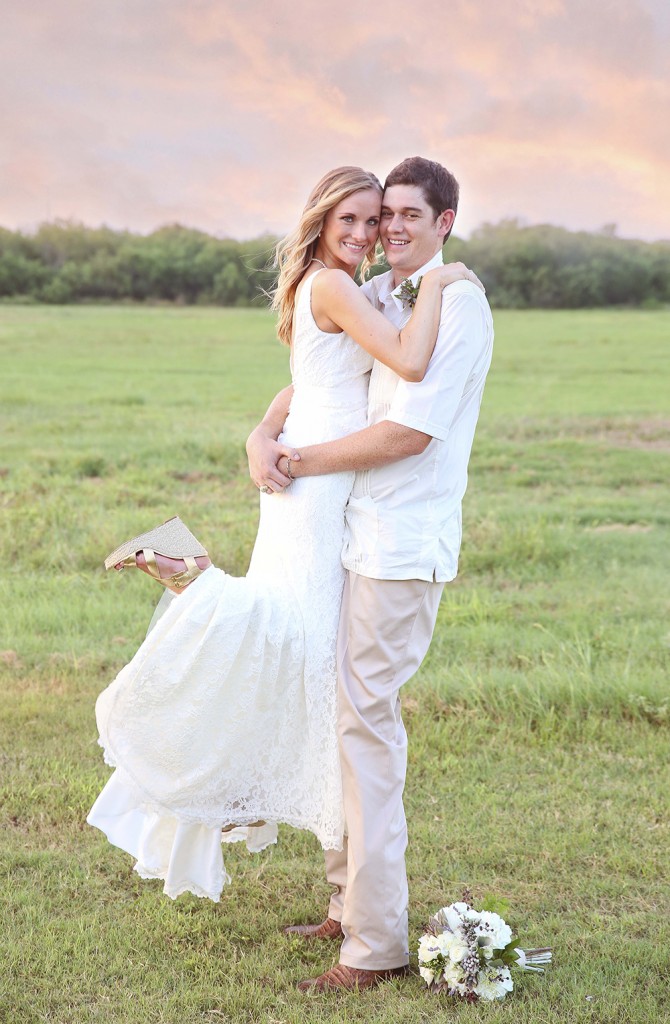 The Bride (maiden name): Madeline Clara-Marie Shirley
The Groom (full name): Jason Skrobarczyk
Date of the Wedding: 25-Jul-15
Location (city): Corpus Christi, TX
Length of engagement: 5.5 months
How did you meet? At a Texas Throwdown Thursday Concert at Brewster's Street (Wade Bowen)
Tell us about the proposal: Jason and a few friends rented a sailboat near Harrison's Landing for Valentine's Day. While we were out in the water, the captain of the boat got the group (3 couples) to go up on the deck to take some pictures. After the group photo, one of our friends asked if anyone else wanted to take pictures. I suggested that Jason and I take some, and while doing so- it happened! I was completely surprised as I never would have suspected he'd propose on Valentine's Day. One of the best parts is that we have pictures documenting the whole proposal! We then enjoyed lots of champagne and lunch at Harrison's Landing (one of our favorite places). The whole day was absolutely perfect.
Wedding colors: Ivory, Taupe, Light Grey, Emerald Green
Site of the Ceremony: Ranch at San Patricio, Driftwood Venue
Site of the Reception: Ranch at San Patricio, Driftwood Venue
Number of guests: 200
Site of rehearsal dinner: Corpus Christi Yacht Club
Number of rehearsal dinner guests: 70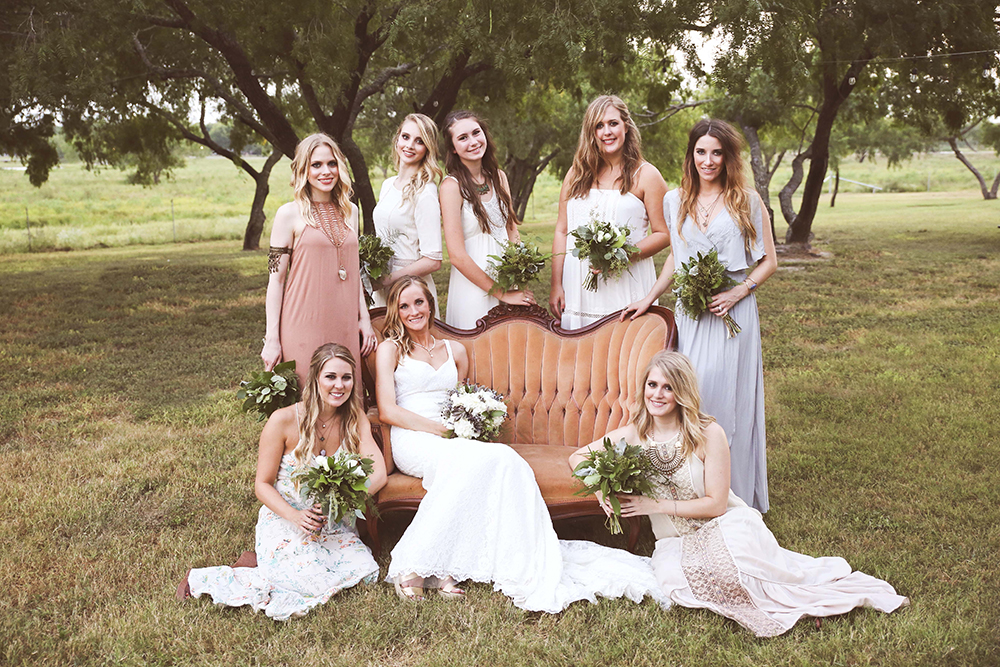 Wedding planner: Bride, Madeline Shirley Skrobarczyk; Day of Coordinator, Aubrey McWilliams
Who designed the invitations: Bride, Madeline Shirley Skrobarczyk
Where the wedding dress is from (store/designer): Store: Unbridaled in Austin, TX; Designer: Nicole Miller
Where were the tuxes from: Groom wore a custom Guayabera shirt from Dos Carolinas in San Antonio, TX with khakis
Where did you get your wedding rings: Engagement Ring, Denny Bales; His Band, James Avery; Her Band, Jered's
Where did you get your jewelry and/or accessories: Bride's jewelry was heirloom passed down from her Mimi as "Something Old"
Where did you get the bridesmaid's dresses (store / designer): Bridesmaid dresses were from various stores including Free People, Urban Outfitters, Asos and Billabong
Where did you get the groomsmen's tuxes: Groomsman wore custom Guayabera shirts from Dos Carolinas in San Antonio, TX with jeans
Who did your hair and make up: Makeup: V-Bar; Hair: Evan Shadle (Bridesmaid)
Who designed the flowers: Always in Bloom
Who did the decorations: Bride, Madeline Shirley Skrobarczyk, along with Sister-in-Laws Kate Shirley & Jen Shirley
Who catered the food: Howards BBQ
Who did the cake: Groom's Cake: Simply Elegant; Bride chose a Kona Ice sno-cone truck instead of a cake (Wedding Cake Sno-Cones!!)
Who provided your reception rentals (i.e. tents, stage, etc.): Very few rental items.. Bride purchased most décor items.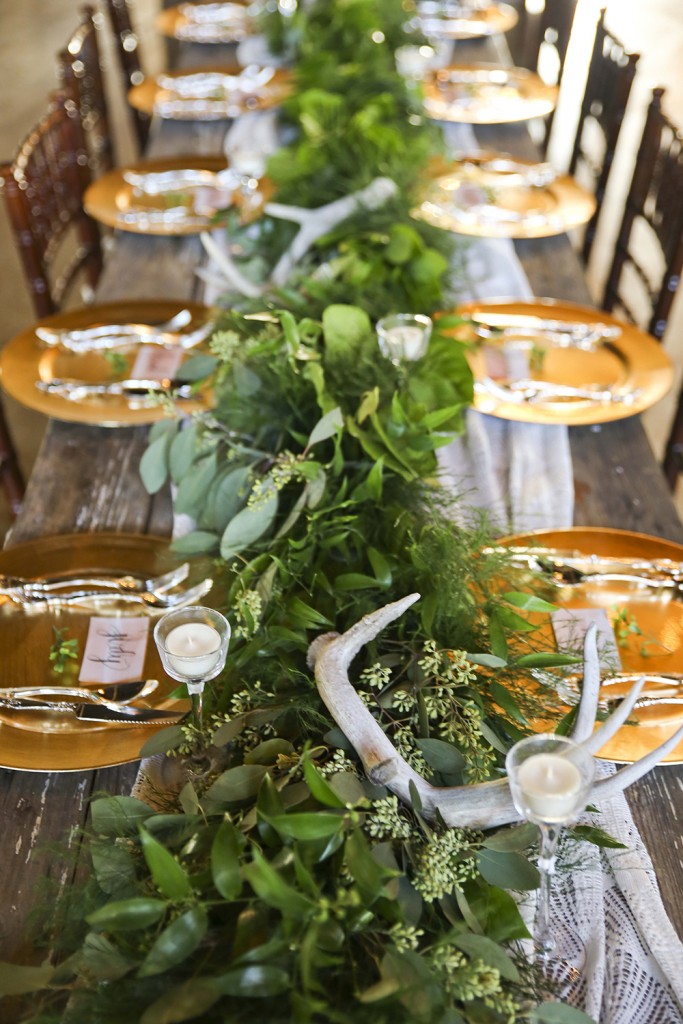 Who was your reception entertainment: Band consisting of the Bride's father and brothers, with a special appearance by the Groom's father and uncle
Who was your photographer: Raymond Gray and Lauren Jones
Who was your videographer: Big Box Pro
What was your first dance song: I Don't Want to Miss a Thing, Aerosmith
Father-daughter dance song: Sweet Home Alabama, Lynyrd Skynyrd
Mother-groom dance song: Stand by Me, Ben E. King
What was your get-a-way vehicle: Sister In Law's Vehicle (Kia Optima).. Original Plan Fell Through 🙂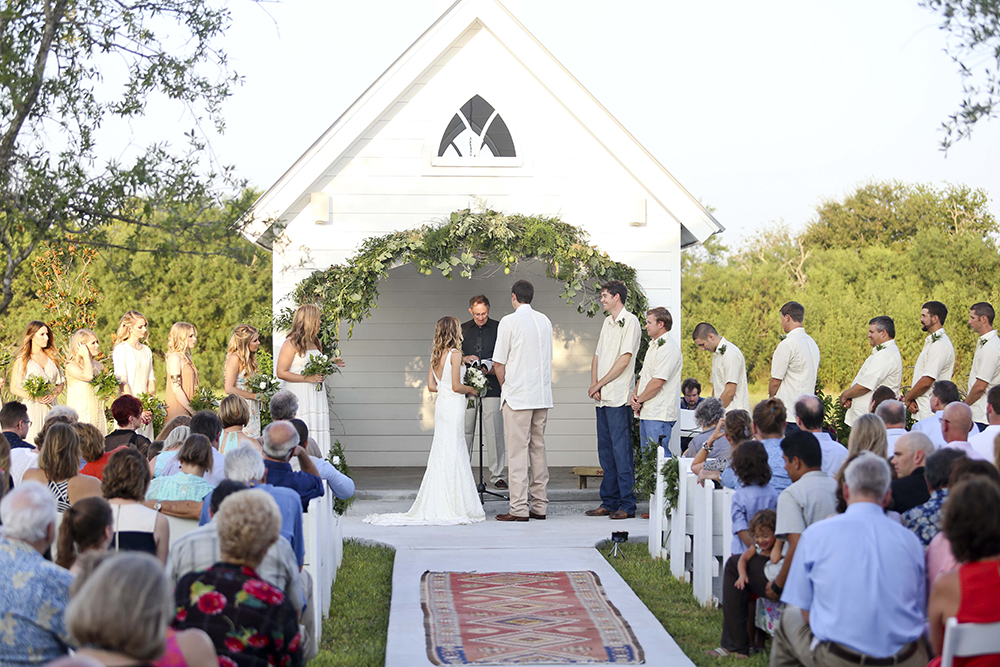 What was your wedding night lodging: Omni Hotel
What were your wedding favors: Custom Matchboxes and Koozies from Etsy
What were your bridal party gifts: Girls: Monogrammed Button Down Shirts, Guys: Personalized Decanters from Things Remembered
Where did you register: Dillards, Anthropologie, Hanley Wood
Honeymoon location: Playa Del Carmen, Mexico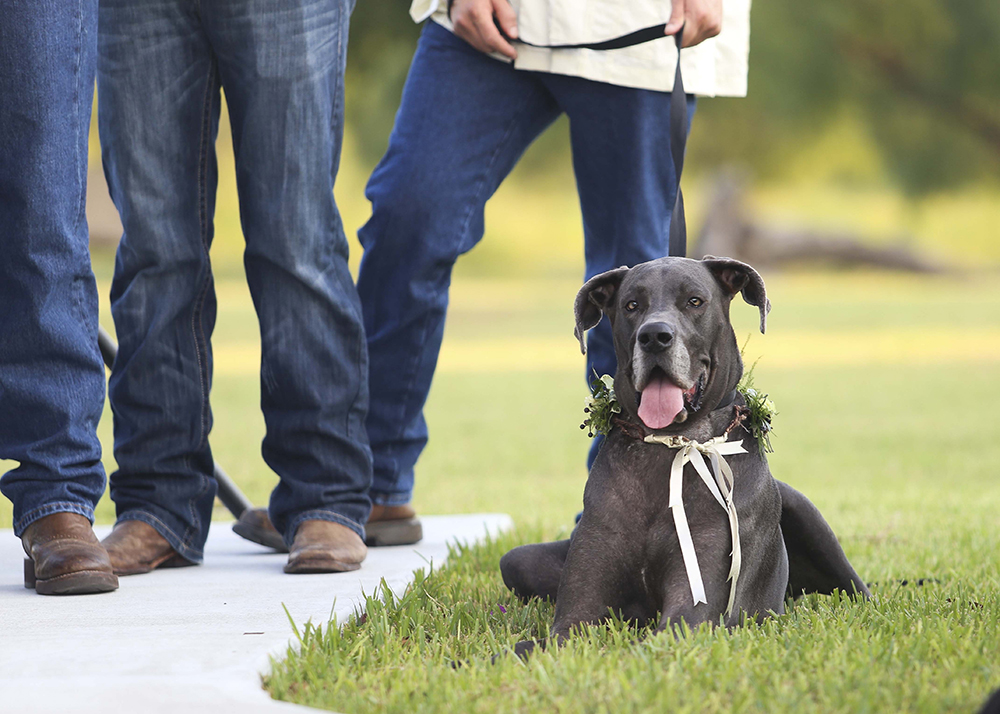 Bride: Walking down the isle to the Sara Barielles song "I Choose You" performed by my brother Mason Shirley and aunt Amy Owen. Seeing the look on Jason's face, it was a surreal moment that I've dreamt of for a long time.
Groom: The kiss and vows.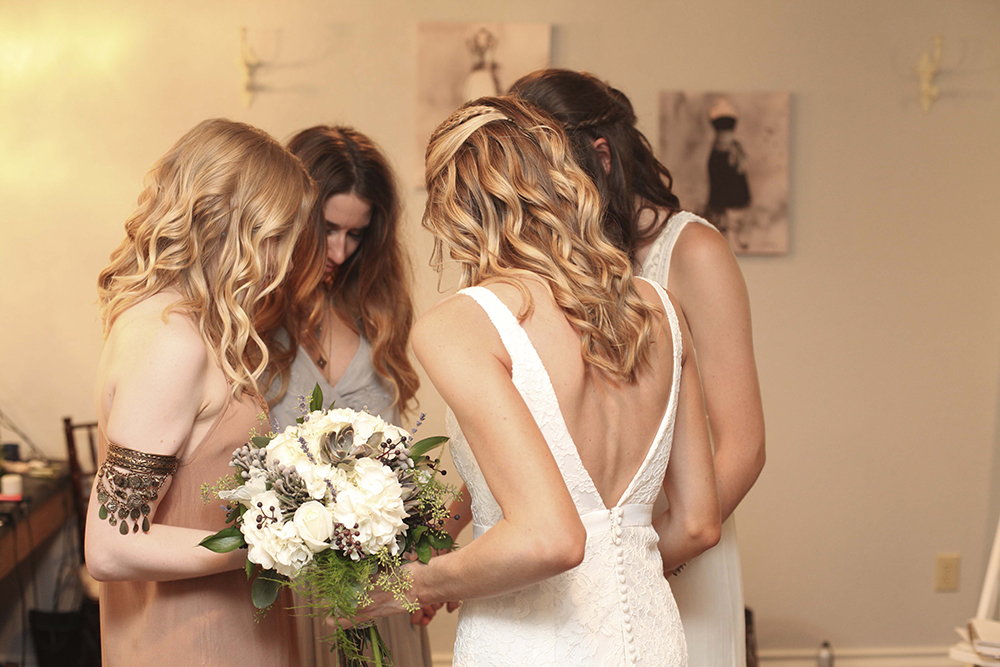 Biggest challenge:
Bride: Probably Time. Planning a wedding, house hunting, and working full time is a lot!! In the end, it was well worth the late nights and lack of being able to eat lunch on my lunch breaks. (That's when the vendor meetings took place =))
Groom: Training Aggie (our dog) for her flower girl duties. She ended up doing an excellent job! (Our parents were worried.. Haha)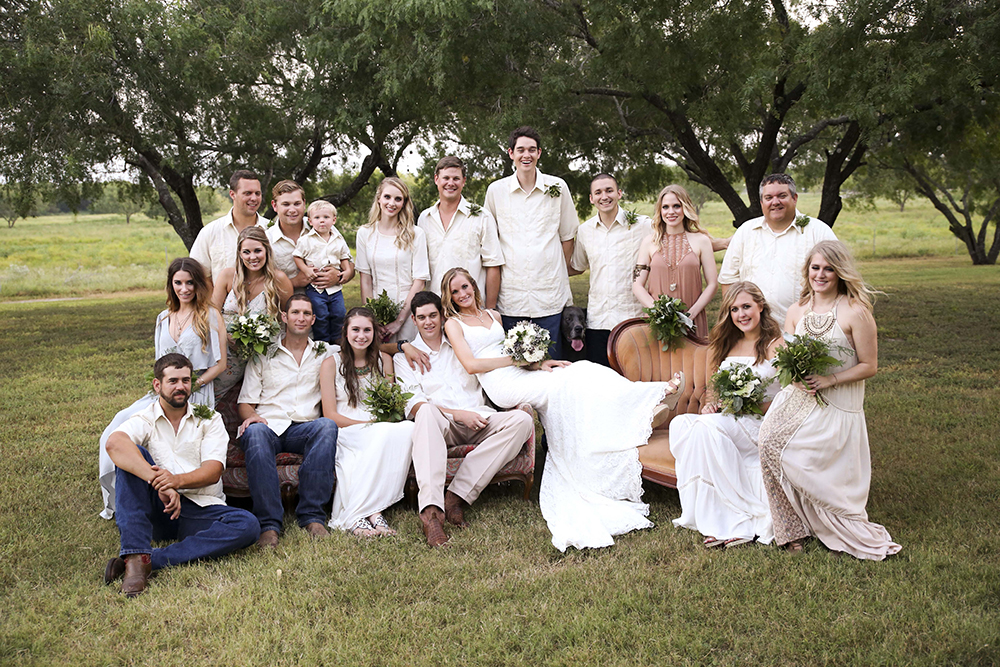 Favorite detail (what made your wedding unique)
Bride: I have three and just can't narrow it down. 1. Our Great Dane, Aggie was the Flower Girl. 2. The band consisted of members from each side of our families. (Bride's dad, brothers, and aunt; Groom's dad and uncle) 3. We had a snow-cone truck instead of a wedding cake. (I prefer wedding cake flavored snow-cones over actual cake).
Groom: That is was casual, fun and truly reflected who we are both as a couple and individually.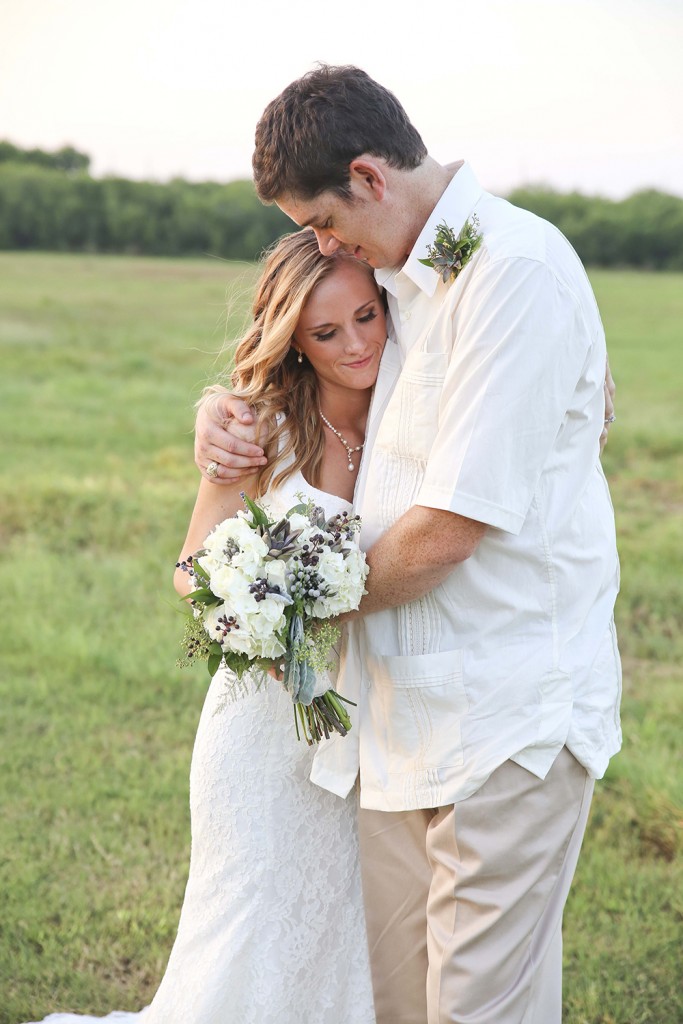 What do you look forward to the most about being married?
Bride: The regular day to day things.. Cooking dinner together, turning our house into a home, starting a family.
Groom: Growing a family together.