Spotlight: Aubrey Winston & Ben McWilliams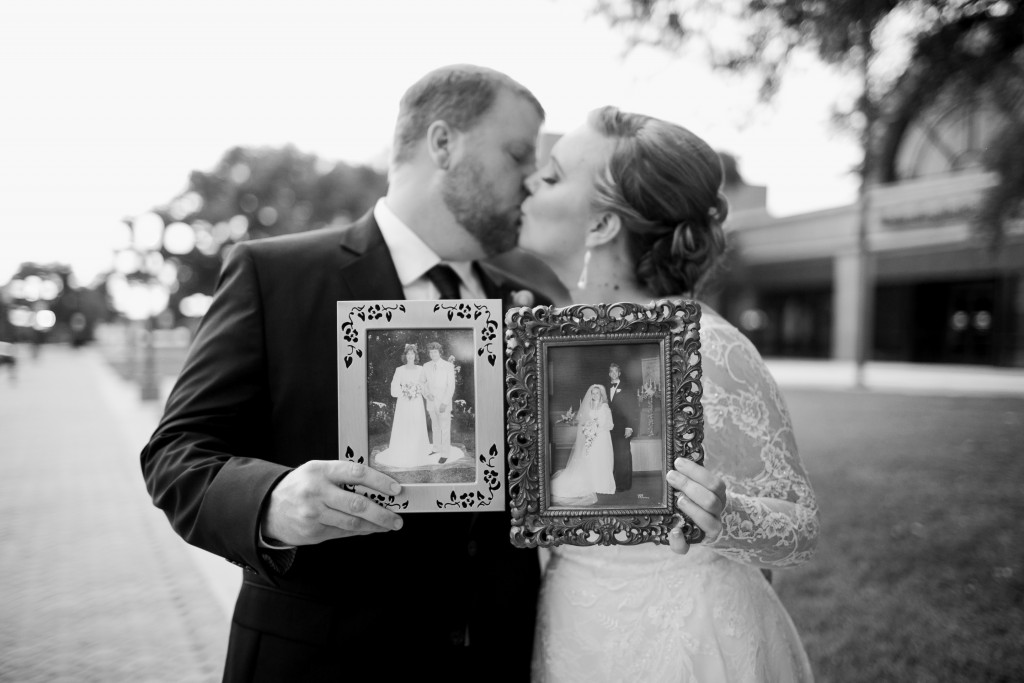 The Bride (maiden name): Aubrey Winston
The Groom (full name): Ben McWilliams
Date of the Wedding: Saturday, August 1, 15
Location (city): Victoria, TX
Length of engagement: 4 1/2 months
How did you meet? Online on Match.com
Tell us about the proposal: Ben planned a trip to the rose garden in Victoria's Riverside Park on March 15, 2015. We walked around while it was drizzling until we made our way to the gazebo. We were taking some pictures until Ben got down on his knee and said the sweetest things and asked me to marry him. I, of course, cried and said yes. The rain cleared up and a beautiful sunset came out. It was lovely! We spent the rest of the evening in happiness as I stared at my ring 🙂
Wedding colors: Navy with orange, yellow and gold accents
Site of the Ceremony: Historic Texana Church in Edna, TX
Site of the Reception: Historic O'Connor Proctor Buiding in Victoria, TX
Number of guests: 60
Site of rehearsal dinner: Los Reyes Mexican Grill in Victoria, TX
Number of rehearsal dinner guests: 25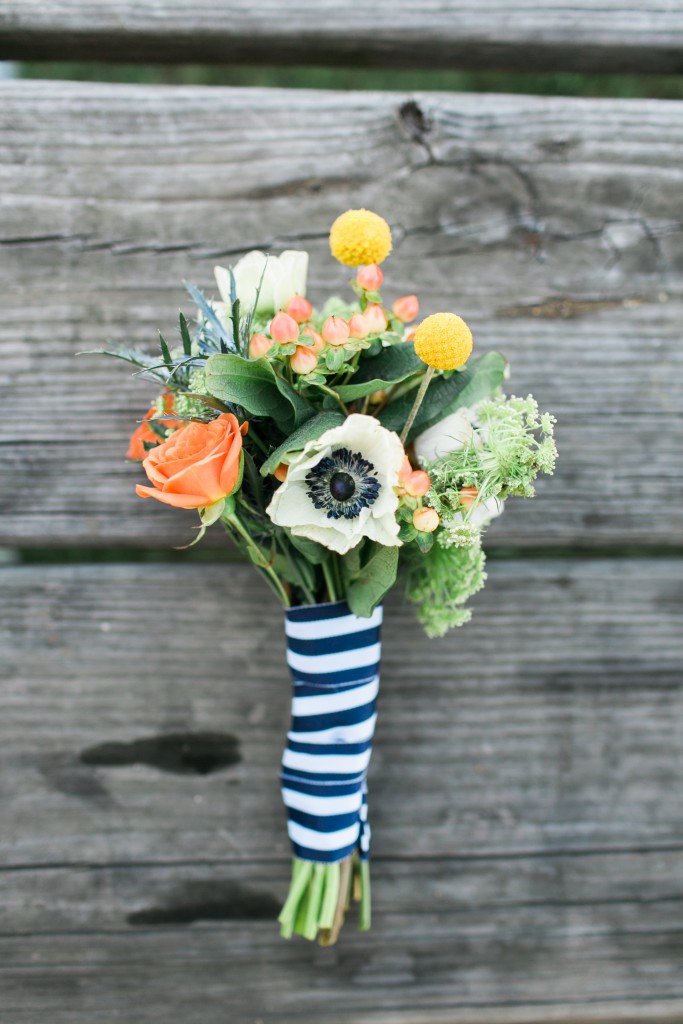 Wedding planner: Myself and Ali Choe of the Ortiz Center
Who designed the invitations: David's Bridal with my edits 🙂
Where the wedding dress is from (store/designer): Oleg Cassini from David's Bridal
Where were the tuxes from: Purchased from JCPenney
Where did you get your wedding rings: Zales with a family heirloom diamond
Where did you get your jewelry and/or accessories: My earrings were from Silpada
Where did you get the bridesmaid's dresses (store / designer): Bhldn
Where did you get the groomsmen's tuxes: Purchased from JCPenney
Who did your hair and make up: Hair – Morgan with Make me Chic Salon of Port Lavaca, TX
Makeup – Yurim Cabrera Makeup Artistry of Victoria, TX
Who designed the flowers: LaDeDa
Who did the decorations: LaDeDa
Who catered the food: Mike Pozzi Catering of Victoria, TX
Who did the cake: Halepaska's Bakery in Victoria, TX
Who provided your reception rentals (i.e. tents, stage, etc.): None – venue provided tables
Who was your reception entertainment: We played our own Ipod but Ali, our coordinator, was DJ for the night 🙂
Who was your photographer: Alyssa Nikole Photography
Who was your videographer: none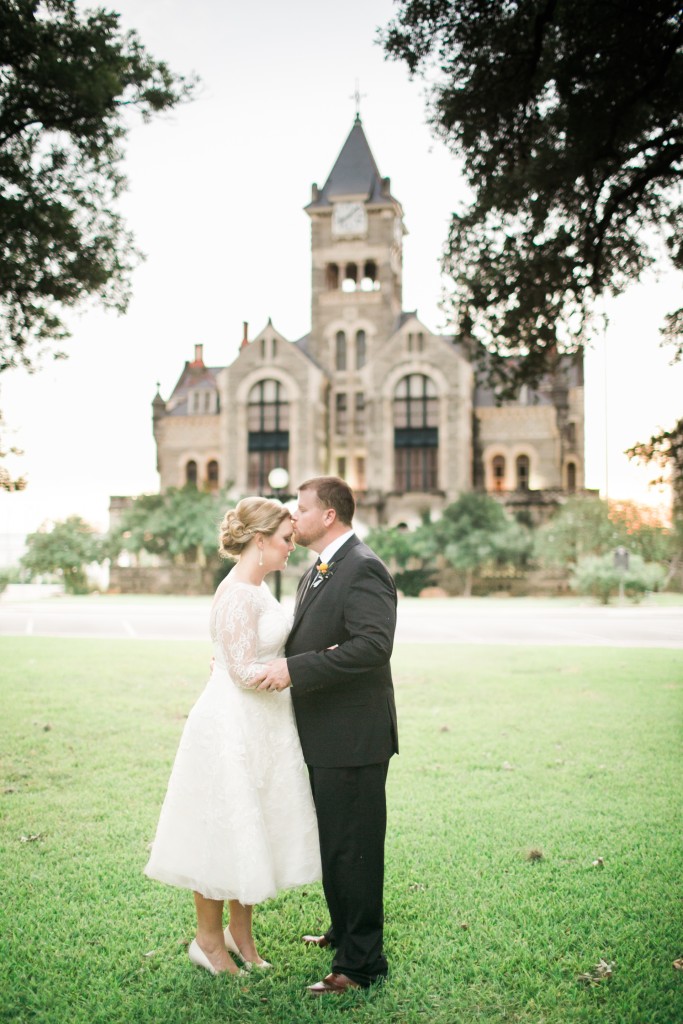 What was your first dance song: Golden by Lady Antebellum
Father-daughter dance song: none
Mother-groom dance song: none
Anniversary Dance : We wanted the anniversary dance because both of our parents have been married 35+ years.
What was your get-a-way vehicle: The groom's white GMC Z71 Truck
What was your wedding night lodging: La Cascada by Wyndham on the San Antonio Riverwalk
What were your wedding favors: Chocolate Chip cookies – a favorite of the groom
What were your bridal party gifts: Guys – the ultimate man bag including Yeti Colsters, tactical flashlights, etc
Girls – monogrammed cosmestic bags, navy floral robes, ring dishes
Where did you register: Target and Bed Bath & Beyond
Honeymoon location: San Antonio, TX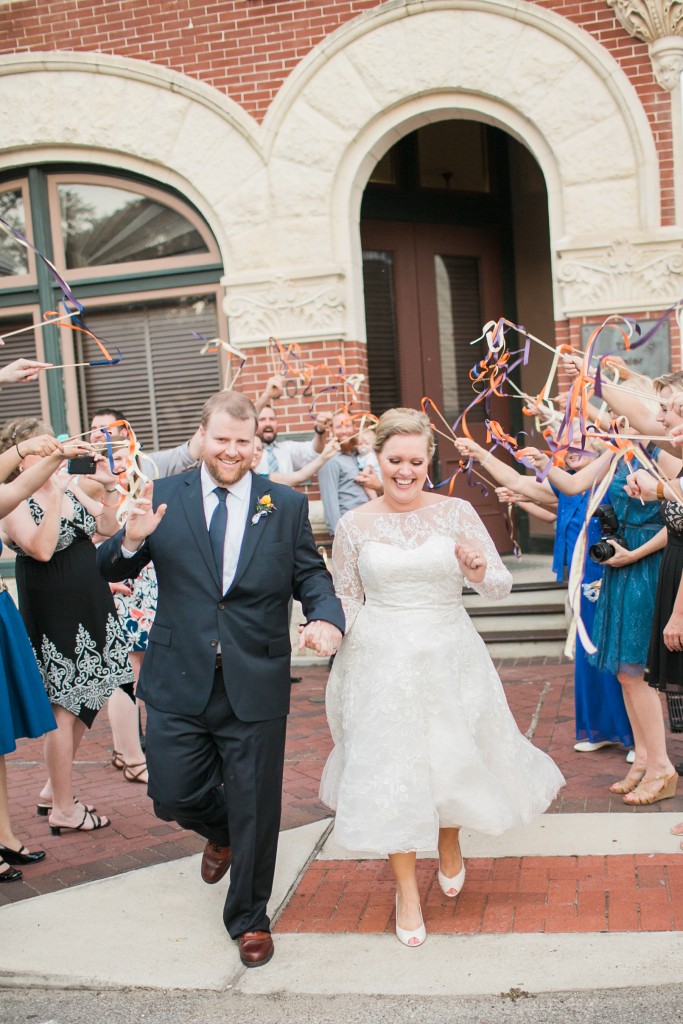 Favorite detail (what made your wedding unique)
Bride: Our ceremony was in an historic church and we had the church bells ring as our exit music. It was so cool to hear those as we walked down the aisle. I am in love with my dress! I wore a tea-length lace dress and wish I could wear it everyday. I also loved our flowers! I specifically asked for anemones and Leana with LaDeDa found them for me 🙂
Groom: A traditional southern wedding with down-home rustic accents incorporated from the cereomy to the reception. I might be a little impartial when I say I liked my groom's cake and thought it tasted pretty good too.
Favorite moment
Bride: I loved the intimacy of the ceremony. The drive from the ceremony to reception was about 40 minutes and that was a great time of just him and I talking and enjoying the first moments of being married. There we so many times of laughing with him that night that I'll remember forever.
Groom: When I got to see my bride-to-be walking up the stairs into the church and down the aisle to meet me. Another favorite was our first dance at the reception.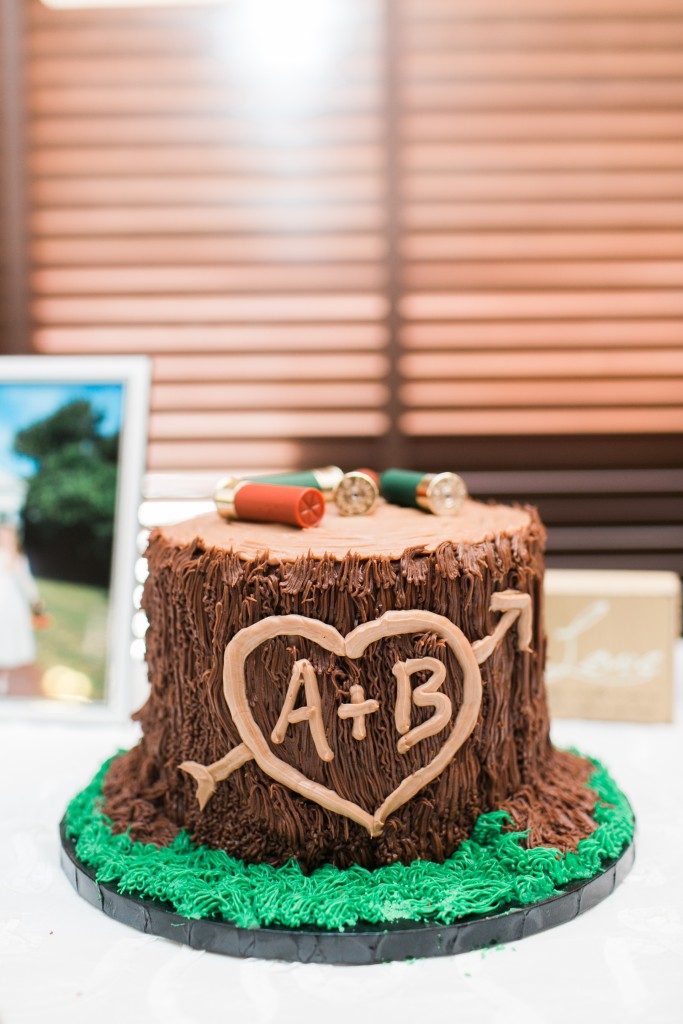 Biggest challenge:
Bride: I was planning our wedding, leaving my job, and selling my house all in the same few months. Stress came from everything happening and needing to be done all at the same time. Thankfully things started falling in place and it all worked out.
Groom: Minor challenges were encountered during the planning phase but we worked through them as all couples do. To me, the biggest challenge is after the wedding and proving to the world that we can make it and looking forward to the next 60+ years together.
Funniest or most embarrassing moment:
Bride: The unity candle wouldn't light so we spent several minutes trying to scrap the wax away but it didn't work. It was a good example of teamwork. It was a funny moment we'll always remember. Our first dance was also funny as we learned how to waltz about 3 minutes before the dance.
Groom: When we were both trying to light the unity candle and realized pretty quick we were having problems getting it to light.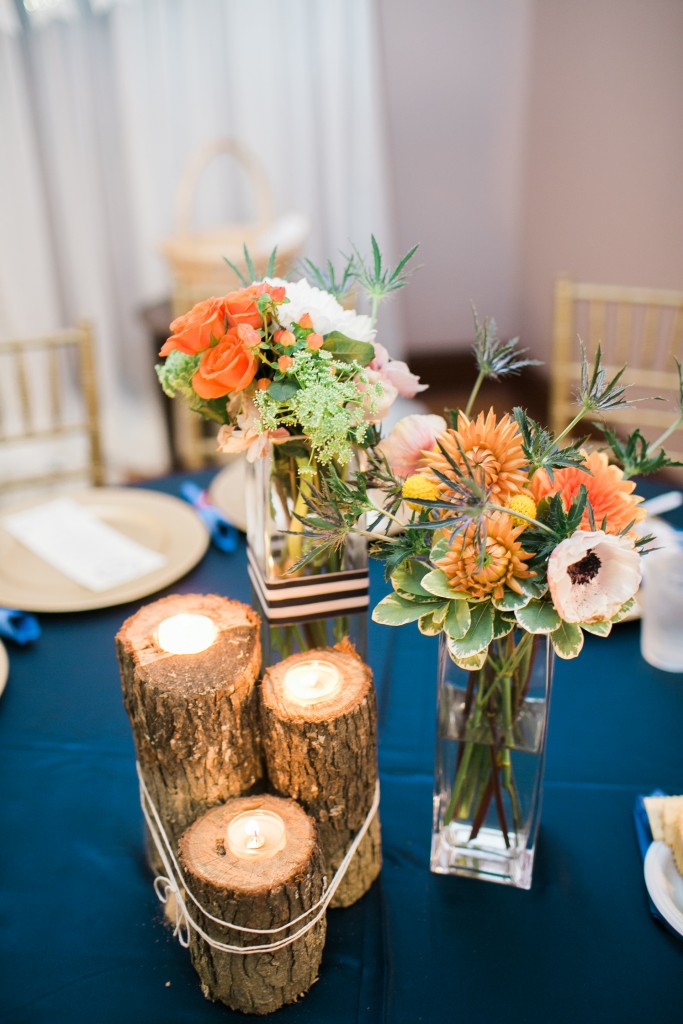 If you could do one thing over again what would it be:
Bride: I would spend more time visiting with my friends and family that traveled for the wedding. I felt like it all went by so fast.
Groom: Maybe chosen a slightly larger venue and invited more friends and family. Also it would have been nice to have more time to visit with everyone that came.
One piece of advice for future Brides or Grooms:
Bride: You need a day-of-coordinator that has a detailed timeline for you. Don't try to do it all when others are willing to help you. I loved having Ali there knowing she was taking care of things and making it all run smoothly.
Groom: Make sure you're always communicating throughout the planning process so there's no surprises when things start to come together. Don't stress over the little details.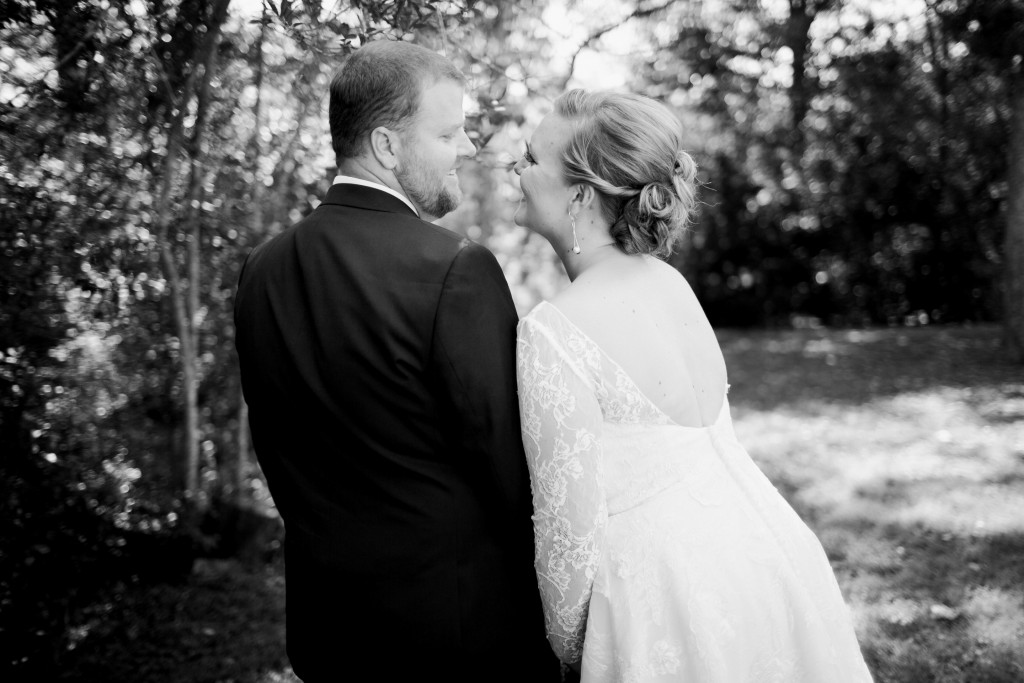 Why did you get married, or what does marriage mean to you?
Bride: Marriage is a lifetime commitment with the one you love. I look forward to spending and experiencing life with Ben. He calms me down and we work well together making decisions about life, etc. I'm excited to have him by my side forever 🙂
Groom: Marriage means a lot of things to me but its spending the rest of my life with my soulmate and best friend. Its someone that I can always count on and someone that will be with me through the good times and tough times.
How to make your spouse happy:
Bride: Don't be too quick to jump to conclusions. Listen to them and their feelings. I've learned that guys don't mean what we, as girls, often think they mean and blow out of proportion. Also making chocolate chip cookies for him!
Groom: Unconditional love and affection. Treating her with respect, being a good listener, and having fun together no matter what we're doing.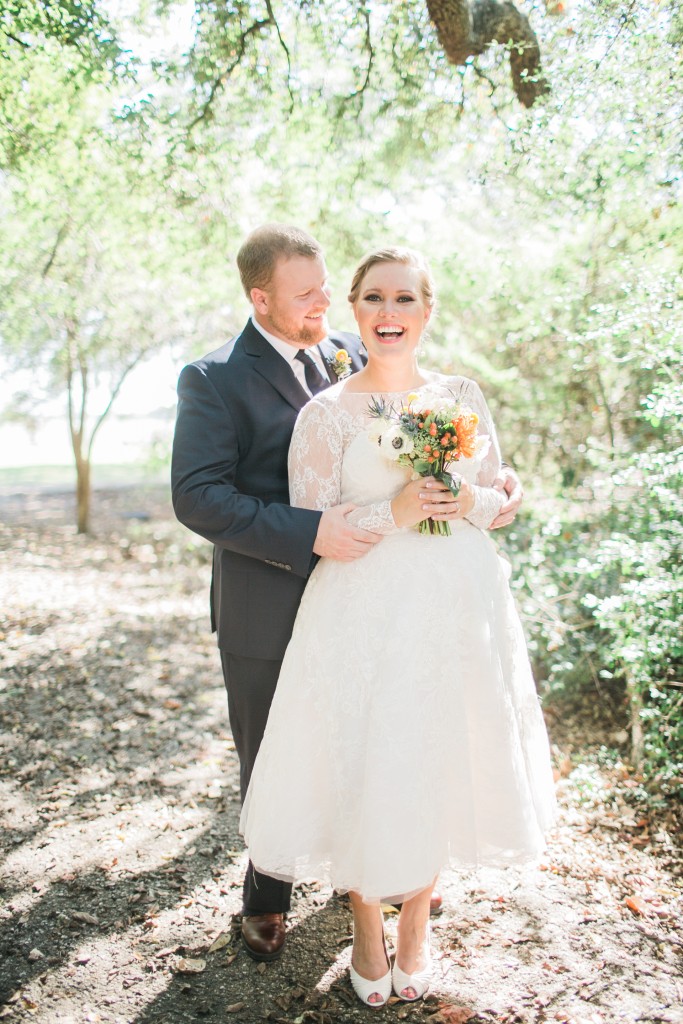 What do you look forward to the most about being married?
Bride: We've actually never lived in the same town. We met online and have always been 1 1/2 hours or more away from each other. I'm excited to come home to him everyday and not have to wait for the weekend to see him.
Groom: Spending the rest of my life with my beautiful bride that the Lord has blessed me with and giving her unconditional love and seeing her smile everyday.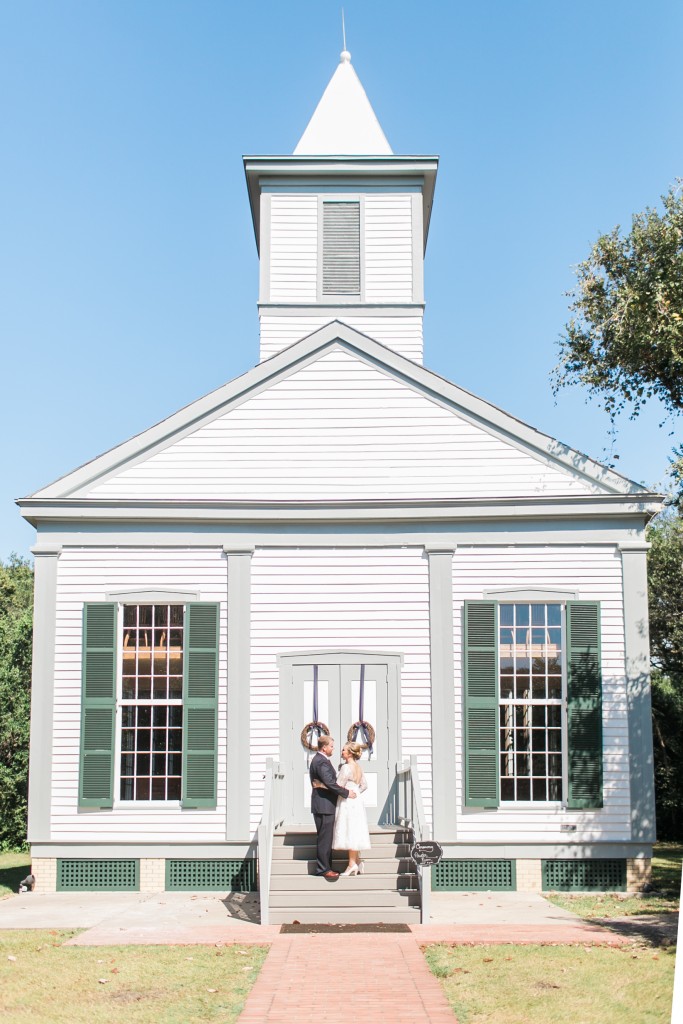 Any other information you'd like other couples to know:
Bride: Be patient with each other. I really loved the wedding planning process and was interested to see what parts he had an opinion in. Its both of your wedding so let him be involved and have antlers with his cake if he wants 🙂
Groom: Make sure both of you are ready to give 110% towards one another before taking the next step in holy matrimony