13 Questions You Must Remember To Ask Your Wedding Venue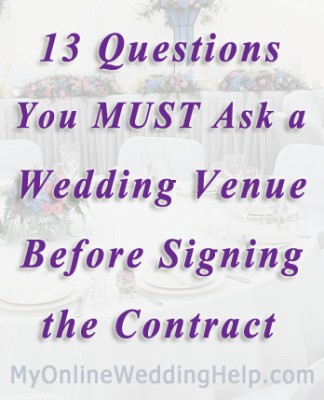 I found this great pin on Pinterest about what questions you should ask your wedding venue before you sign with them. I found this website very interesting, and their 13 questions are great questions to remember! Please share with us any of your questions or ideas that you have regarding planning your big day! S
Planning a wedding can be very stressful and with that, its important to ask the correct questions, especially when you are choosing your wedding venue. Many venues operate in different ways so please consider the following questions below.
Is there an added charge for using my own vendors? Many times, locations have their own coordinators, caterers, or other professionals they want you to use for your event or included in the cost. It is critical for you to clarify the agreement not only so you know the final cost, but also so you understand which responsibilities fall on your shoulders.
Does the price include alcohol or is that extra? Some venues will charge based on actual wine, beer, and liquor used. If this is the case, the quoted fee will not include those items.
Can I bring in my own food, drink, and/or cake? Even if it is only a room rental, the facility may require you to use certain services they provide. If there are restrictions, discuss the cost of those services and if they are included in the price you've talked about. Likewise, if you are buying a package, find out if do-it-yourself is an option for food and beverage and how that affects what you pay.
If I do bring my own food, drink, or cake are there extra charges? The venue may see you supplying certain items as more costly for them. While it's true they save on what you provide, their people may still be doing some of the work. For example, there may be a cutting and plating charge for an outside cake.In some cases there may be a sort of "privilege" fee beyond labor cost to make up for lost profit. Alcohol is a good example. The venue can make very good money on wine and liquor, so may add on substantially extra, commonly called a corkage fee, just to open containers. And no self-opening allowed!
Are rentals included in this price? Chairs, tables, tablecloths and other adornments may or may not be provided.
Are there set up fees? This could be especially important to make clear if you plan to have both your ceremony and reception at the same venue.
Do you do the breakdown and clean up or do I?  This can substantially impact who and how much you pay.
Is parking extra? There may be a charge for guest and/or valet parking, so clarify the arrangement. If there is a charge are you or the guests paying it?
If there is an additional service charge does it cover all tips? Who you should tip can be confusing, so many times the venue will add on a percentage over the quoted price to use as tips for the servers, bartenders, and others. Explore exactly how that works. Does it cover everyoneor do they feel it is customary to tip certain additional staff?
Is there a time limit and what's the cost of going over? There is often a set amount of time you can utilize the reception space (four or six hours is common). The cost of going over on time can be substantial.
What are the tax rates and related fees? These can vary according to the municipality and may include not only state and local sales tax, but hospitality fees or other unexpected taxes as well. Also, clarify which subtotal each fee is based on (total base amount, food only, food plus service, etc.)
If you are charged per person for any piece of the reception, you will want to explicitly understand how they will arrive at the final number. Ask these additional questions to clarify.
12. Is there an additional cost for my other vendors (i.e. the photographer, videographer, planner, and DJ/band)? Your professionals will need to eat, so it is important to know if or how you need to count them. Should they be in the final head count or reported separately (In other words, if you can get a discount rate for the vendors)?
13. Are there special considerations for children? Often, the child cost is less than the adult rate, so ask. You will also want to follow up with separate counts before the event and verify they've tallied the final bill correctly.
– See more at: http://www.myonlineweddinghelp.com/bridal-news/do-it-yourself/13-questions-you-must-ask-your-wedding-venue-before-signing-a-contract#sthash.sVwzjxth.dpuf
Sincerely yours,
Monica B. Trevino