HEB Blooms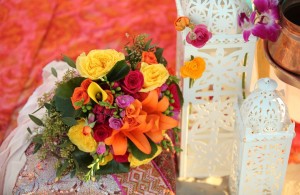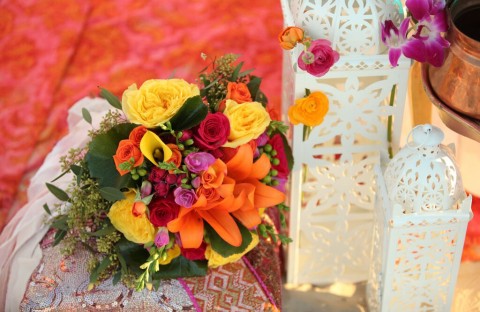 Ask any wedding planner and you will get the same answer: fresh flowers remain the hallmark of wedding tradition. Fresh flowers on a bride's wedding day trace their roots back to the ancient Greeks, when bridesmaids would weave a floral laurel and place it on the head of the betrothed. In England, flowers would be dropped by flower girls before the steps of a bride to bring happiness to the bride's life journey. And in Germany, brides and grooms would hold candles tied with flowers and ribbons through the ceremony.
Fresh flowers reflect the utmost attention to detail. Fresh flowers often become the most beautiful statement of the wedding.
One florist blends the artistry and beauty of exquisite floral arrangements with the ease, reputation and reliability of one of the most trusted brands in Texas: H-E-B.
"H-E-B BLOOMS is where your 'happily ever after' begins for our Brides." Margaret Garza, H-E-B Business Coordinator-Floral, says.
Designing and selling fresh flowers under brands, H-E-B BLOOMS® and Weddings by Design by H-E-B® offer brides world-class floral design with the ease and efficiency of a neighborhood flower shop with an amazing menu of designs.
"Expect the unexpected with H‑E‑B BLOOMS® Shops. Think of us as your personal floral boutique for all of your special occasions—no matter how big or small. With our premiere collection of fresh cut flowers, plants and expert designers, we'll transform everything from an elegant wedding to a simple "thank you" into something unique and truly unforgettable."
H-E-B BLOOMS® has built a strong reputation the last several years as a competitive floral design brand. Recently, H-E-B BLOOMS® was selected to design floral arrangements for Oprah Winfrey's The Life You Want Weekend in Houston for the VIP reception. That reputation surrounds the brand's approach to brides.
H-E-B BLOOMS® offers brides two unique ways to plan a wedding when it comes to flowers. H-E-B BLOOMS®, with 50 stores across Texas, including one at H-E-B Plus! in Corpus Christi, offers full service floral design for weddings and events including delivery. Experts from around the world train H-E-B BLOOMS® designers and each lead designer comes to the BLOOMS brand with a solid background in creative floral design.
"BLOOMS is very customer focused," Garza said. "Our designers set up consultations with the brides, then discuss her dream and her vision. Often with a bride, they are wanting that special flower or color that we can special order, so we work with our growers to acquire the perfect flower at the right time for the bride's wedding."
Garza said today's brides work with traditional tools, like ribbons, jewels and color swatches, to create the look of their flowers; but they also use technology more than ever to explain their wishes in full. She said brides often bring in Pinterest boards and detailed images of what they want. BLOOMS designers gather the details and work with the bride to make the vision a reality.
The second offering is unique in nature and probably the best wedding idea to surprise the industry in the past few years. "Weddings by Design by H-E-B" is an all-in-one bridal floral concept that offers a menu of products to make fresh wedding flowers simple, elegant, cost effective and fast – much like the most successful products in today's rapid-fire, global marketplace.
"'Weddings by Design by H-E-B®' is an amazing bridal floral service that is priced competitively to any flower shop and offers everything a bride would need to create a beautiful wedding," Garza said. "We're here not only to help beautify the ceremony and reception, but to simplify the Bride's wedding planning process."
Weddings by Design by H-E-B® works like this: brides can visit any H-E-B Floral department or www.heb.com/weddings to review the floral menu. Brides selecting one of our eight distinct flower packages and customize by the size of the celebration, we can make the Brides floral vision come to fruition, easily and elegantly. A bride could pick roses, astromerias or hydrangeas, for example. Then, a bride selects what pieces she would need for the big day, like a bouquet and maybe table arrangements, corsages or boutonnieres. She selects the price package she wants from the menu and the work is done. It's that easy – and the flowers are gorgeous on her wedding day.
Garza says the strong reputation of H-E-B BLOOMS® and all of its products and services guarantee that a bride will love her flowers on her wedding day.
"People trust H-E-B as the 'Good Housekeeping seal of approval,'" Garza said. "Customer trust our brands and company and know we will deliver a fantastic product, that's the relationship we have build over 110 years. We stand behind our designs to ensure that the bride is happy on her big day. To see a bride's face and to know that the flowers are exactly as she dreamed, that's what it is all about. No matter what your budget, we'll be here for you every step of the way by making ordering your arrangement, or planning the flowers for your event, blissfully easy."
Find H-E-B BLOOMS® at
5313 Saratoga Blvd. or call
(361) 980-0993.
Article by Omar Lopez