White & Blue Mood Board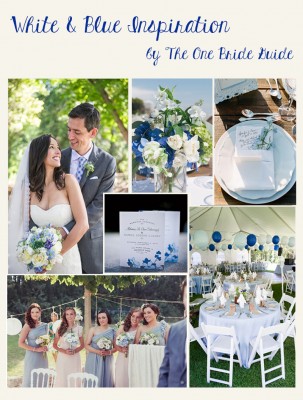 White and Blue are those colors that are just refreshing to look at, especially if you're having a summer wedding. Blue is not only a beautiful color it has long been a symbol of peace and tranquility, which is something you need on your wedding day. Sometimes, in the summer people go overboard with bright colors which makes the reception look too heavy. Using a lighter color palette like blue and white for your big day will give off a sense of lightness. My favorite thing about these white and blue weddings pictured above are the bouquets. Even though you're just using two colors, there are several shades of blue flowers that look so pretty when paired with the green leaves of white roses!
Would you choose this color scheme for your wedding?
Your Bridal Trends Blogger,
Ashley
Pictures from: Grey Likes Weddings, Brides, French Wedding Style, Wedding Chicks,