Dark Romance Moodboard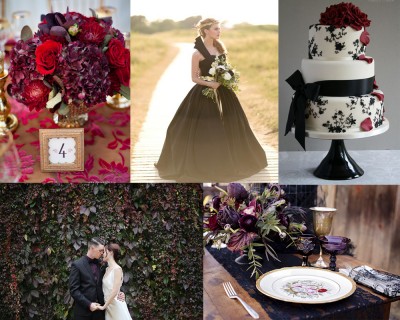 There's always something elegant about a wedding with darker colors. The rich purples and reds give off a sense of royalty and drama that the other colors of the spectrum sometimes fail to do.
Personally, I am in love with these colors! I've always been drawn to the darker and moodier side of things.I understand that these colors aren't for everyone because I know a lot of brides tend to go for the pastel colors.
However this type of color palette would be perfect for a fall or winter wedding where the richness of the colors would make up for the drop in temperature! If want to achieve this type of decorations, flowers, and cake for your wedding then check out Butler Signature Events, H-E-B Blooms, and Simply Elegant by Raymond .
Would you go with a darker color palette for your wedding?
Your blogger,
Ashley
Images via Style Unveiled, 100 Layer Cake, Flickr, Ruffled, &, Trendy Bride