DIY Shell-Topped Bottles
I'm so excited to share our first DIY Tutorial. I got the inspiration for this post from the lovely people on The Wedding Chicks. I'll admit, I'm not really a DIY person. Sometimes, I'd rather just buy it then take the time to actually make something…BUT this tutorial is actually really easy! So if I can make this, then you can too!
These cute little shell-topped bottles would be the perfect decorations for your beach/ocean themed wedding AND you can always use them as decorations around the house, which is always a plus!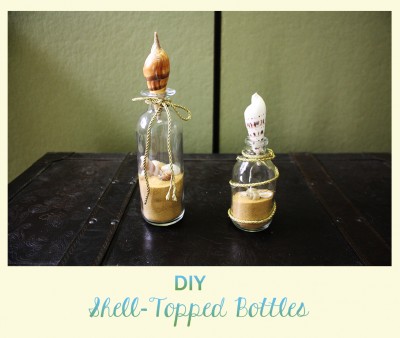 What you'll need:
Glass bottles
A Sheet of Paper or Funnel
Sand
Decorative Ribbon or Rope (depends on what look you're going for)
Big Seashells
Small Seashells
Hot Glue Gun
1st step:  Fold your piece of paper up into a cone or if you have a funnel use that to pour the sand into the bottle. For ours we put the sand a little less than halfway but you can put any amount that you desire!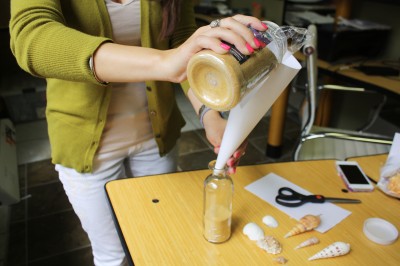 2nd step: Drop a few small seashells into the bottle so that they are resting on top of the sand. We put 4 or 5.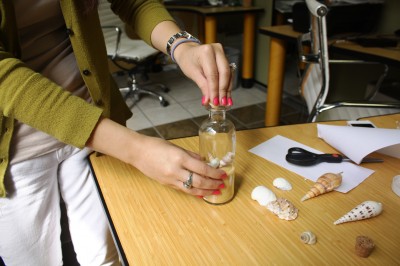 3rd step: Use the hot glue and glue around the inside of the bottle and stick your big seashell into the opening of the bottle. Be sure to press down on the shell for a good 10- 15 seconds to make sure that it sticks.
Last Step: Get your rope or ribbon to make a bow on the top or you can hot glue the ribbon around the bottle like we did in the smaller one.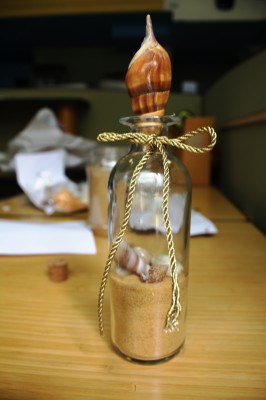 Hooray you did it!!
The fun thing about this tutorial is that you can be creative. You can experiment with different color sand, bottles or ribbon. You could also put a message in a bottle! There are endless possibilities, after all the world is your oyster.
Hope you enjoyed our first DIY tutorial!
If you recreate it on your own be sure to send us pictures.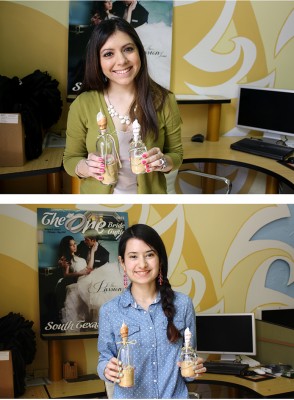 Your Bridal Trends Blogger,
Ashley