The One Benefits
The One Bride Guide magazine is the ONLY bridal magazine along the South Texas Coast, it is FREE to the public, circulation of 12,000 magazines per issue, with over 135 distribution locations in Corpus Christi and the surrounding metropolitan areas! Our magazine is a complete resource available to a Bride planning her wedding or anyone planning an upcoming special occasion. We have 3 issues per year: February, June & October. Our magazines can get into the hands of anyone, and one magazine has up to 3 impressions!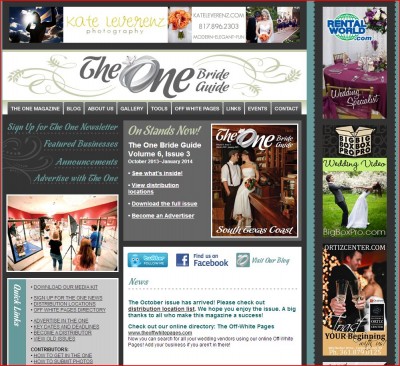 BENEFITS:
With our Off White Pages Directory, including over 1000 vendors, you can find the perfect accommodations, caterers and food providers, bridal and formal wear, bakeries and desserts, photographers, accessories and so much more by using our print and online directory. A business can Get Listed in our Off White Pages Directory for FREE as well as our Site Finder Locations where a business can be listed to hold receptions, weddings, big or small events, and more!
A business can also upgrade to a Gold Listing, this listing gets you bumped up to the top of your category, includes a description, link to your face book page, map of your location and up to 8 images–> this is free if you advertise!
We offer unlimited social media exposure on our Facebook and blog as space to promote any specials you are having including events! We currently get over 3000 unique visitors to our blog alone, not to mention our Facebook and regular magazine website.
If you buy a color advertisement of any size, you are eligible to have an article written about you at some point. This is usually one-page article. We send a writer to interview and include photos of events you are proud of and so much more. This has been a big boost for vendors!
ADVERTISEMENT: 
How can you make sure you are getting noticed by one of these Brides who picks up our issues of The One? Advertise your business in The One-now in print and online! We are currently planning our February 2014 issue and our deadline to be in that issue is December 6th! If you have questions or concerns please contact our Sales, Marketing & PR Executive Monica Trevino at [email protected] or send us a general inquiry at [email protected]
The October issue of The One is currently on stands! Please pick up your copy of The One today! Click here for the distribution locations in your local area!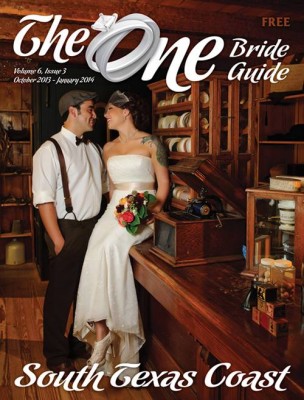 Your Sales, Marketing & PR/Blogger
-Monica B. Trevino