Suit Up. Look Good.
Here is an article written by Aubrey Winston, one of our contributing writers for The One, from one of our long term advertisers; the Congressman Solomon P. Ortiz International Center! Enjoy!
Suit Up. Look Good.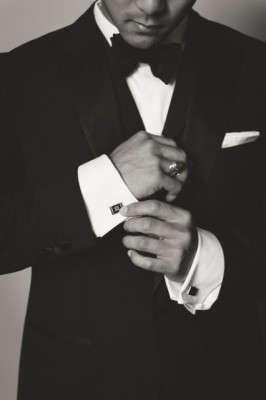 So you're engaged! Time to start the wedding planning. Time to start putting together everything you've ever dreamed about. Decisions need to be made on the dress, a venue, the wedding party and the list goes on and on…
While the bride and her girls focus on their look, don't forget to think about the groom and the men of your special day. Their attire is often overlooked and not given much thought. Investing a little time and thought into this can give that extra touch to your wedding. In speaking to the teams at Tuxedo Junction and Men's Wearhouse, I learned that this is not something to be taken lightly.
I received much of the same report from both rental companies. The trends are recently returning to the classic tuxedo. This includes a bowtie with a white shirt and black tuxedo pants. Also the fit has changed as more and more grooms settle on the slim fit and European lapels. This is a reflection of the current trends in men's wear.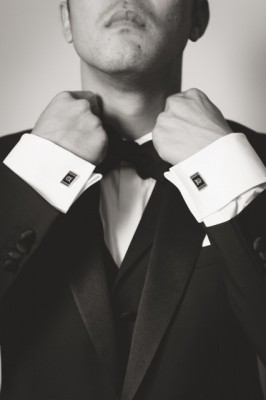 Bobby Buentello at Men's Wearhouse reported that most grooms come by themselves to the rental appointment and are immediately drawn to the unique attire like zoot suits or tuxedos with tails. The many options often overwhelm them. In an effort to assist the groom and give the bride peace of mind, Bobby suggests making the appointment as a couple so you can both decide what is best for your wedding. Men are enjoying getting more and more involved in the planning and the joint meeting gives the bride the ability to ensure that the look and feel of her wedding is still in tact.
As your appointment draws near, work to finalize your bridesmaid's attire and the colors of your wedding. Jaime Rivera at Tuxedo Junction shared with me that they work closely with the bridal shops to match colors. They understand what specific colors at each bridal shop are and can be easily matched. The most popular colors of the moment are pastels. Both rental companies have been seeing lots of lighter colors, as well as gray and chocolate.
Walking into your appointment, you will need to know the men involved in your wedding and who will wear what. Many brides just rent for the groom and groomsmen. Don't forget to think about the fathers, grandfathers and ushers. These are all men who are included and will be seen in photos for years. Your father will be walking next to you down the aisle… why not make sure he looks his best? The timeline for men's wear is slightly shorter than that of the bridesmaids. Tuxedo Junction suggests going in about 4-6 months before the wedding to settle on a look. The men will need to go in for measurements about 2 weeks before. If you are looking to special order items, don't forget about the additional time needed.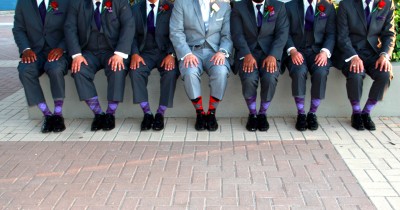 As the wedding draws near, don't forget that this is your wedding and you will look at these pictures for many years to come. Pick what you both want and you will forever be happy. As Bobby from Men's Warehouse says "Everyone is looking at her but she is looking at you." Make sure you feel your best.
Contact Tuxedo Junction at (361) 993-2100,
visit their new location at 5425 S. Staples St.
or visit www.tuxedojunction.com. Contact
Men's Wearhouse at 361-992-4782.
We at The One are here to help you and your business be successful! Special thanks to Tuxedo Junction, one of our new advertisers for the October Issue! Want a copy of The One? Click here to see the distribution locations in your area! 
Always my best, 
Sales, Marketing & PR/Blogger
-Monica B. Trevino